Italian Premium Quality Extra Virgin Olive Oil PDO
- Terra di Bari P.D.O. - Protected Designation of Origin Italy/Puglia/Bari/Terlizzi
- At an altitude of 190 meters (625 feet) above sea level in the countryside of Terlizzi (Italy) our Premium Quality Extra Virgin Olive Oil PDO is produced to the highest standard to give its distinctive taste.
All of our olive trees are cultivated using the most ancient traditional techniques. The harvesting of the olives is carefully timed to gain its maximum flavour and unique characteristics of the "Coratina" olives.
Coratina olive is a variety grown only from traditional farmers and from those who do not want to compromise quality with quantity. This olive variety produces a consistent and fragrant Extra Virgin Olive Oil of golden/green colour and at the same time, more importantly, the oil achieves very low acidity levels.
The olives from our land are picked and on the very same day, they are transported for two miles to be screened from leaves and any other impurities like soil and little stones and cold pressed into our finest Extra Virgin Olive Oil PDO.
The olives from this year's campaign (2017-18) have delivered a superior quality Extra Virgin Olive Oil due to the hot and chilled drought during the summer months and optimum clime conditions.
Taste the difference!
We are so proud of our EXTRA VIRGIN OLIVE OIL PDO
We have our name on it!
Click here to read the analysis of a sample from this year campaign 2010/11
The sensory analysis we scored 8.3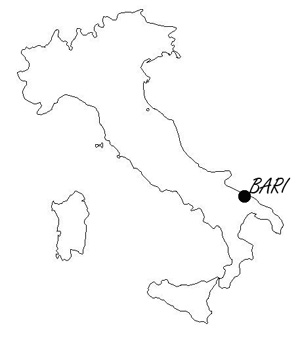 Finest Italian Extra Virgin Olive Oil